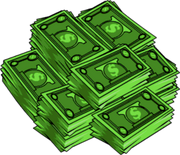 Cash 
(

 or $) is a permanant currency in
The Simpsons: Tapped Out
. It can be collected by finishing characters' jobs, collecting income from buildings or winning on the
Scratch-R
. The most expensive building currently available for cash purchase is the
50ft Magnifying Glass
which will cost the player 3 Million cash to buy. All of the main questline buildings are bought with cash, and so are most decorations. Cash has been in the game since it's official launch in February/March 2012, and the player may have up to $99999999 in their account at one time.
Ad blocker interference detected!
Wikia is a free-to-use site that makes money from advertising. We have a modified experience for viewers using ad blockers

Wikia is not accessible if you've made further modifications. Remove the custom ad blocker rule(s) and the page will load as expected.